Eye on your Business gives you the Business Intelligence and the Financial Control that is only found in larger and more expensive solutions.
Eye on your Business is your Business Intelligence (BI) tool which refers to computer-based techniques used in spotting, digging-out, and analyzing business data.  This modules monitors and analyses your business activities to give you a real-time analysis of how your business is doing.  With an easy to use Dashboard and extensive reporting, charts and key indicators, you can keep on top of managing your business. Eye on your Business allows organizations to get a more accurate and detailed picture of what is going on in terms of business and customers.  Eye on your Business aims to support better business decision-making.
Key Business Intelligence provides you with the financial feedback and client analysis to eliminates speculation and guesswork and can improve your overall decision process! Designed and optimized for optical stores, opticians, optometrist and ophthalmologist Eye On Your Business keeps you up to date!.

Knowing the facts will help you manage better, grow your business and allow you to make better business decisions.  Eye on Your Business is your Business Consultant.
Invoicing / Billing / Claims / Dispensing
Filopto's Invoicing, Billing, Claims, Inventory and Dispensing, module provides the features required to keep track of your financial transactions. it keeps you in control of your business.  Starting with the Picture Me option to help close that sale,  to connectivity with the  QuickBooks connector, to supporting e-payments and credit cards,  Filopto is designed to properly document, track and speed up your check out process.
Creating an Invoice doesn't have to be complicated,
with Filopto creating your invoice is easy!
Filopto automatically pre-enters all the base information needed, permitting your staff to concentrate on the items sold and provide great customer service. Fully integrated with the inventory module, prices and availability are automatically provided. Users can also easily link items to create and track a Lab Order.
For the tasks that are less often done we have wizards to guide the user in completing the task.
Filopto's invoice automatically displays what the patient and insurance owes.  For ease of use. Invoices and receipts printouts are user customizable to provide that special service level that makes your establishment unique.
Inventory
Your Inventory can represent the second largest financial asset in your business. Managing it properly is key to growth and financial stability.  Filopto Inventory module is designed for small and large Optical stores, Opticians, Optometrist, and Ophthalmologist and  includes a vendor tracking module, purchase order module, sales tracking, re-ordering features, bar coding, pricing options, user inventory customizable groups and categories, a FramesData connector  and much more.
Employee Manager
"Your employees are key to your success"   Properly managing your employees will help increase your chance of success.  Filopto provides tools to manage your employees as well as tools that can increase efficiency.  The advanced Employee Manager includes a Time Clock for easy tracking of staff hours and payroll preparation.  As well the time clock time sheets can be transfered  to the optional QuickBooks Pro connector for payroll purposes
Task Manager
Keeping you and your employees efficient is the reason for the Task Manager.  This module allows you to stop worrying and track the various task entered to completion.   Easily see what needs to be addressed by you and your staff.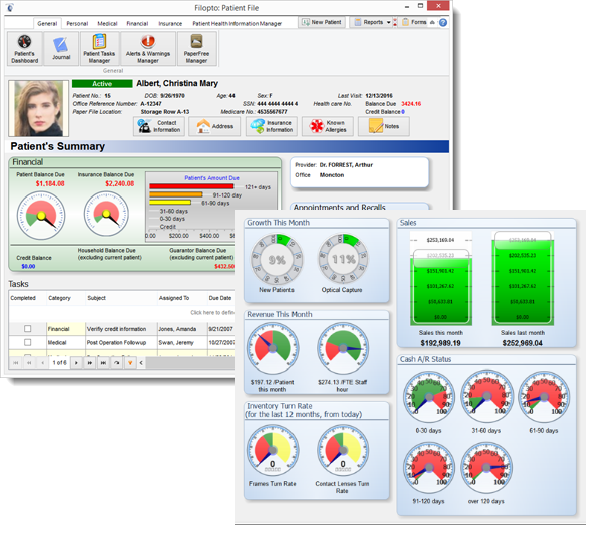 Claim Management
Claims Management is important to your cash flow.   Managing Claims efficiently is mandatory! Filopto Claim Manager gives you access to every aspect of a claim from preparation, submission to payment.   Filopto supports most North America insurance claim jurisdictions including HIPAA-CMS-1500, NS-MIS, OHIP, BC-MSP, Alberta Health,  Manitoba Health. Manitoba Blue Cross. The Claim Manager permits you to see each claim and it status.  Optional modules include a USA Medical Coder & Claim Scrubber service.
With Filopto you can efficiently manage and track how your claims are progressing. Filopto Insurance Claim system can help you define the insurance companies you want to use, track by company and patient each claim and provide you with the tools to do it all automatically with little human intervention or errors.
Reports and Forms Manager
The Report / Form Manager empower you with information to assess: efficiency and performance, areas for concern, marketing information and potential factors for growth. Financial feedback and client analysis eliminates speculation and guesswork.  Filopto offers extensive reporting capability with over 600 user customizable reports and forms. If these are not enough you can even create your own using our advance report writer.
Patient Communication Manager
Customized Patient Communications. Quickly create personalized patient letters, newsletters, postcards, routing slips, and labels.  Integrated with Microsoft Word for additional flexibility in sending a patient communication. Communicate with your patients via email, if desired.
Filopto TransNational Payment Connector (USA)
"Employees at my busy network of optometry clinics were becoming really overwhelmed by daily record-keeping; it just was taking too much time in the day.   I worked with TransNational to improve my company's billing and invoicing processes, which included adding systems to securely store customer payment information."
– Dr. Andrew N., Optometrist
Automatic Secure Backup Service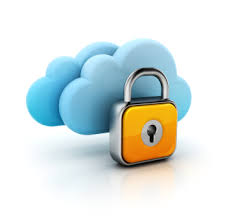 Our secure and encrypted cloud base automatic backup service can backup your Filopto data as well as any other program, document or file.  The Accra Backup service supports MS Windows, Linux, Mac OSX, and UNIX.  Stored on our secure and encrypted servers your data is safely backed up using the latest technology that meets or exceed all government regulations such as PIPEDA and HIPAA. Set it and get notified each time your backup has completed so you can be confident that your business is well protected.