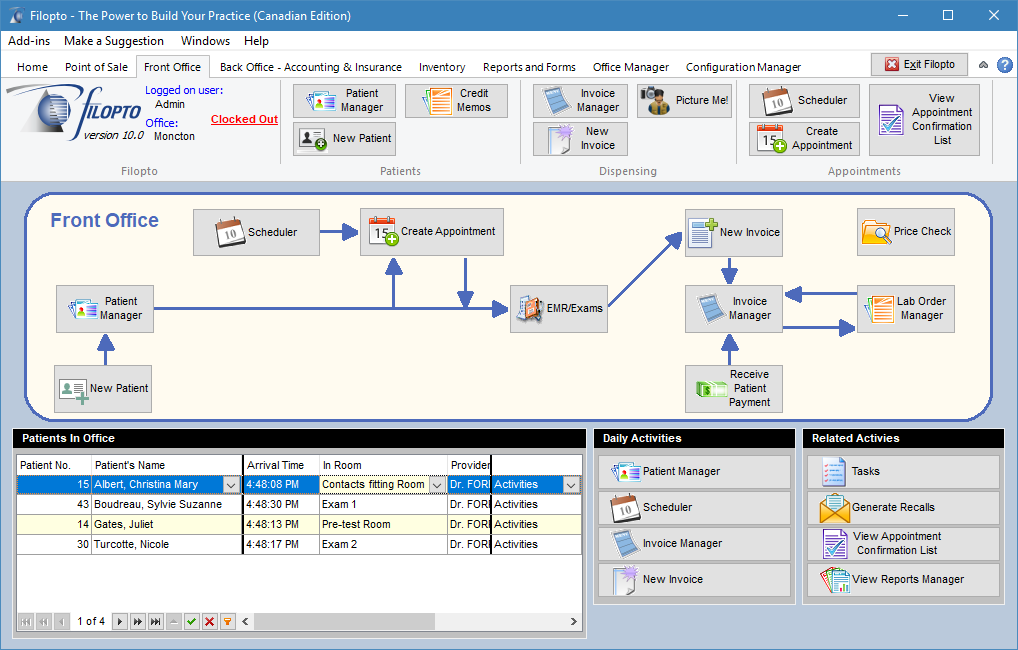 Filopto LE
Filopto LE is designed for a single location optical, optometrist or ophthalmologist office. From small to very large office settings, Filopto LE base eye care modules are easily expanded to meet your growing needs!
Filopto DE
Filopto DE is a two-location system. Start with the Filopto base module and add the optional eye care modules you need to customize it the way you want.
Filopto EE
Filopto EE Enterprise Edition is designed for an unlimited number of eye care office locations. From large optical, optometrist or ophthalmologist office environments to eye care chains, Filopto EE will meet your needs.
Filopto 10 Product Catalog
With Filopto you can use the device you want. Filopto supports the traditional Local Client/Server devices as well as remote Cloud base installations.
Patient File & EHR / EMR Records
Filopto has the features you want and need for optimal workflow and efficient practice management.
The Filopto Eye Care Practice Management core modules are all about customer service.  Easy access to your Patient files, EHR /EMR, and other information.
Our PaperFree module permits you to easily store all file types from documents and images to video and sound files into the patient file.
The EMR screens use a custom exam template interface adaptable to your unique needs. The EMR captures your exam findings and includes other key features such as patient educational material that can enhance the patient visit.
Scheduling, EMR/EHR, invoicing and sending claims, Filopto wants to make the patient visit an experience that is both satisfying and professional.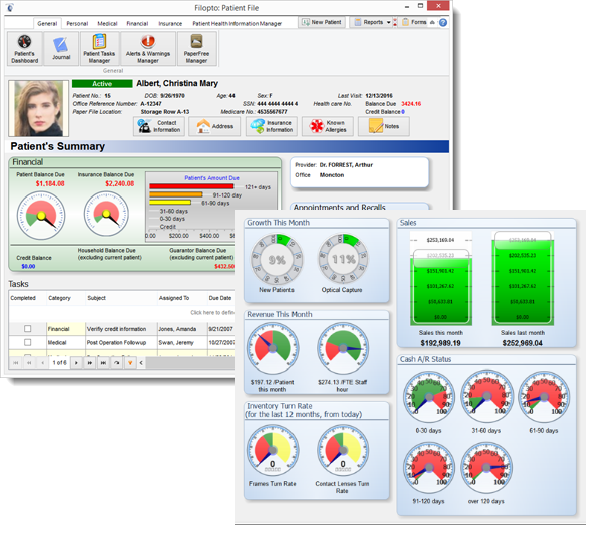 Connectivity / Integration
Open, Integrated and Connectable
Filopto Eye Care Practice Management solution recognizes that you use other tools and Filopto does not lock you in.
Filopto is an open solution that connects and plays with other programs and devices.  You can call any Windows program or Internet program from within Filopto or go directly to a website from within Filopto.
Filopto supports and connects to such tools as QuickBooks, various diagnostic equipment and talks with other office tools such as Open Office and Microsoft Office.
Filopto works with many partners to give you a complete solution. 
Stay connected.  Review our Features list to see the flexibility of Filopto.
Work from anywhere
Safe, reliable, and secure
Connect to Filopto server instantly from anywhere in the world via the Internet.
Using the latest Windows Remote Desktop service or the Citrix remote service you have access to your Filopto Eye
Care Practice Management system from most devices and platforms available today.
You have your own Private and Secure Cloud solution.
The integrated EMR gives you all the tools to record your exam findings ! The user customizable templates support voice and pen recognition for easy data entry.
Financial Management
Providing the features and tools for efficient and effective financial control and decision-making
With the standard "Eye on your Business" module, you can stay in touch with the pulse of your business – what is selling, what is working and what needs your attention.
Filopto provides you with extensive financial, accounting and reporting information from invoicing to payments and claim submissions, as well as inventory and sales management.
With over 600 pre-configured and customizable reports and forms, Filopto provides you with the tools to easily manage and grow your business.